Glamping Resort Domes
Excelite Glamping Dome is made out of polycarbonate sheet, the same material used for engineering-grade bulletproof glass and fighter-jet cockpits. Our dome is solid, hard-sided, 100% clear, with a 360-degree transparent view. It's UV protected and unbreakable, with a smart lock offer you a safe security and access control. The manual curtain in the round offers you necessary privacy, meanwhile, there is an automatic curtain on the roof to block the sunshine when the sun is very strong, and you can push the button lying on your bed to see the stars through the clear rooftop.
Excelite Glamping Dome is perfect for Glamping business, make your Glamping resort be the most eye catch one out of all different cabins or Glamping huts. The unique sleeping under star experience definitely will give you a good memory. Your Glamping hotel will always be the most popular one with Excelite Glamping Dome.
Excelilte Glamping Dome is perfect for restaurants or bars too. Imagine sitting in a heated out door igloo dome with a lake view or beach view, enjoy the winter sunshine, don't worry about the rain or wind, even snow.
We have a wild range of sizes from 2m to 9m, and all the domes can connect to each other make it en-suit or a family room.
Excelite Glamping Dome is very easy to install, you can easily assemble a 3m domes by 2 persons, in 1-2 hours. It only take 30 hours to break it down, so it's a portable Glamping Dome, you can move it easily from one place to another.
Excelite is a company specialized in polycarbonate sheet manufacturer for more than 20 years, we know this material very well. In the meantime, we have plenty of polycarbonate fabrication experience too, this is why we can make such a big dome by thermoforming.
No matter you are planning start your Glamping business from the scratch or you want to expand your currently Glamping business, Excelite Glamping Dome definitely is one of your best choice.
Give us a call or send us an inquiry, we are happy to answer all your questions.
Why Choose Excelite Domes Suppliers?
One of the Strongest domes in the world
5mm Polycarbonate sheet, 300 times
stronger than glass
Hailstone proof
Withstand 11 grade Wind, 2m Deep snow
Working temperature from -40°C- 130°C
Easy DIY kit
Very assemble friendly design
3 people can set up a dome in 3 hours
30 mins to break it down
Full set of installation instructions with video Portable
No matter you are going to use the dome for a glamping business or restaurant, Excelitedomes will help you increase your business. All the restaurants with our domes received 3 months advance booking.
The hotel sold out half a year in advance
We keep stock for each size
Lead time: 10-20 days
Ship worldwide
Safe Seaworthy packing
Door to door service
360 Degree transparent
Waterproof
Easy DIY kit
Different sizes can connect to make ensuite
Widespread Application
Excelite dome assembled in cold countries like Canada, also we installed in desert-like Joshua tree CA, It suitable for Audi Arabian climate, and you can use it for snow mountain.
Eco-living Glamping Domes That Provide A Perfect View Of Nature
Are you an individual landowner who wants to build some glamping pods for extra income? Or a holiday park or campsite looking for a unique Glamping choice for your guests? Or maybe you want to expand your hotels and resorts with some special ideas? Excelite Camping dome will definitely bring you some fresh ideas. Lie in your bed and see the stars in a milky way from Excelite Camping Dome, or sleep in the bush, watch the small animals jump about, you can also stay in a heated transparent Excelite Camping dome, enjoy the sound of the snow falling.
Excelite Glamorous Camping Dome is different from traditional Glamping domes, it's not a geodesic dome, not a bubble tent, it's a 360 Degree transparent polycarbonate dome, with a solid shell. It's very strong, you can't break it with a hammer. It's safe to put in the wild, you don't need to worry that wild animals will break it. It's an all year around camping dome, and you can use it in all weather conditions, all climates.
You don't need to blow Excelite Camping dome up like a bubble tent, and the material is polycarbonate, no smell, FDA approved material, it can be used for food containers.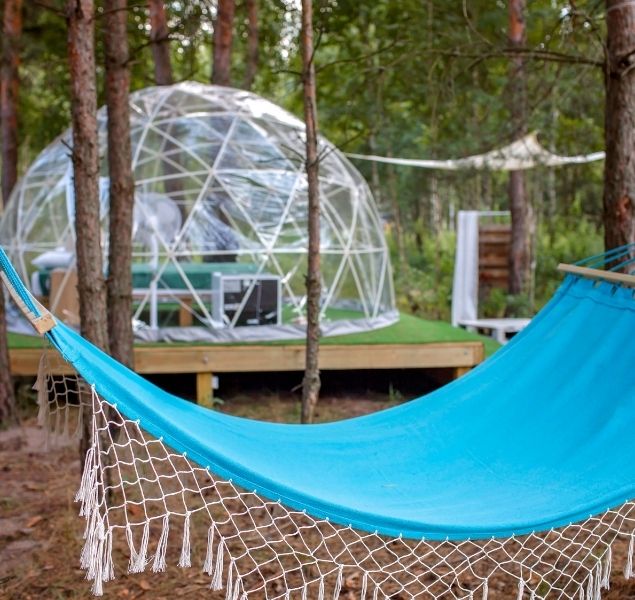 Domes for Your Glamping Resort: We Build Customers' Dreams
Excelite Camping dome is semi-permanent, it's easy to install, and quick break down, you can move them from one place to another easily. The material polycarbonate life span is 10 years, there is no massive color change or yellowish during the time.
Check with the professional sales team for more details now.