Polycarbonate Glamping Domes
Excelite is a global polycarbonate glamping domes supplier. Excelite has been in polycarbonate industry for more than 15 years. We are one of the first polycarbonate domes designer and manufacturers in the world.
What is Polycarbonate Glamping domes?
Polycarbonate sheet as a building material, has been used in many different applications for over 100 years. It's 250 times stronger than glass, shatter proof, perfect for roofing, and glazing replace glass, meanwhile, it's as transparent as glass. Which makes polycarbonate glamping dome is one of the strongest dwelling domes in the world.
UV stabilised polycarbonate sheet can be used for outdoor in any weather condition for over 10 years. Different from PVC sheet, you can't smell any odour from polycarbonate sheet.
Excelite Glamping Dome is a unique, thermoformed, frameless and 100% transparent structure. Overlap edge design make it watertight and even stronger. Excelite dome comes as an assemble friendly prefabricated kit, easy to DIY, and relocatable.
Excelite Dome comes in different sizes (2.1M / 3.5M / 4.5M / 5.3M / 8.8M ), and you can connect different size domes to make en-suit (Combo Domes).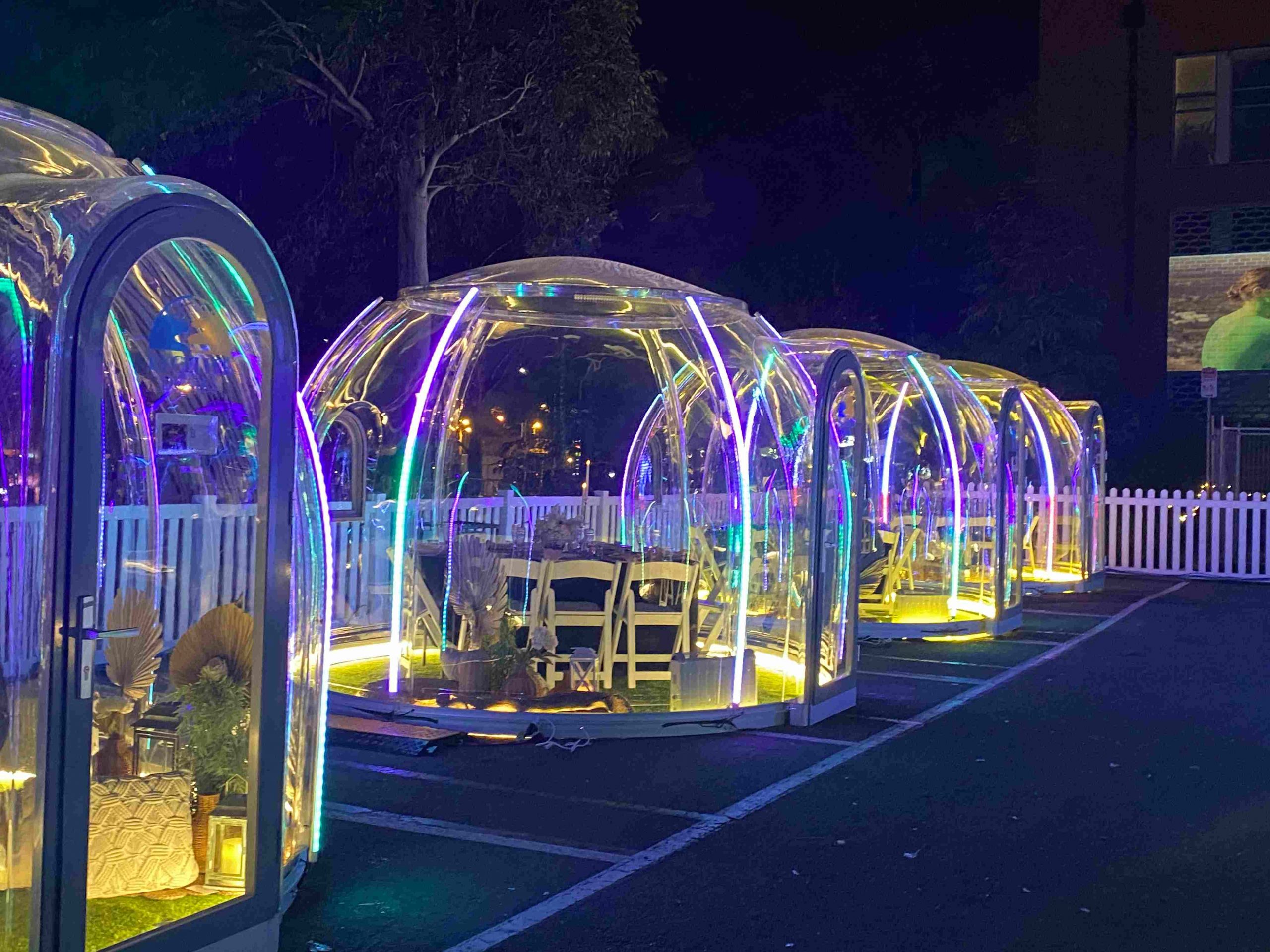 What included in Excelite Dome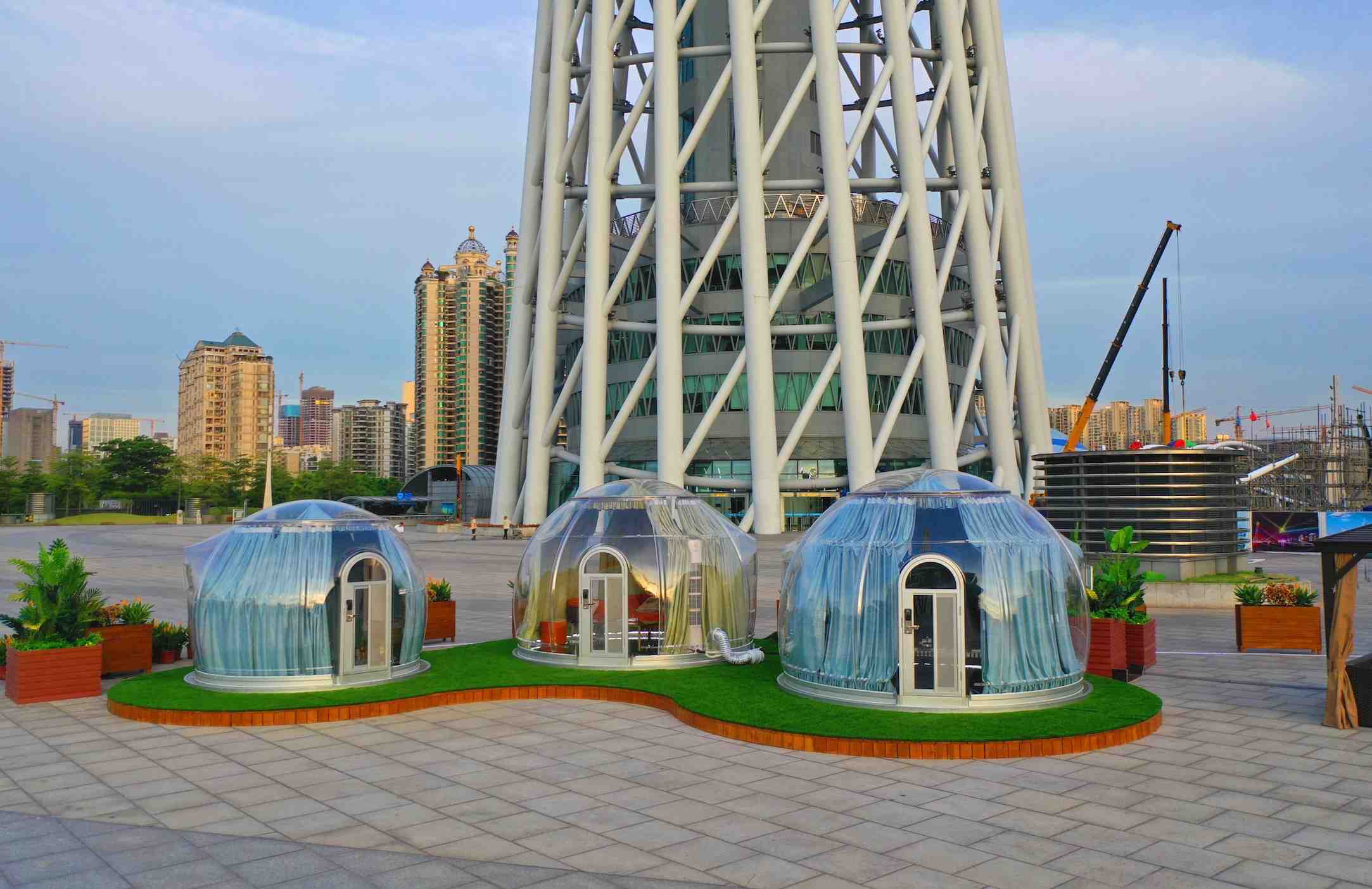 A standard package of Excelite Dome includes the following items
Security door with hotel swipe cards lock or coded lock
Two windows with fly mesh
Electric curtain for the rooftop and manual curtain for the side. Curtain Rail
LED system for inside of the dome and outside of the dome
Ventilation
Optional choices
Solar power ventilation
Infrared Ray blocking Solar control polycarbonate panels
Connections for two domes
Extra doors or windows
One of the strongest glamping domes in the world
5mm Polycarbonate sheet, 300 times
stronger than glass
Hailstone proof
Withstand 11 grade Wind, 2m Deep snow
Working temperature from -40°C- 130°C
Easy DIY kit
Assemble friendly
3 people can set up a dome in 3 hours
30 mins to break it down
Installation instructions
No matter you are going to use the dome for a glamping business, restaurants or Airbnb, Excelite domes will help you increase your business. All the restaurants with our domes received 3 months advance booking.
The hotel sold out half a year in advance
We keep stock for each size
Lead time: 10-20 days
Ship worldwide
Safe Seaworthy packing
Door to door service
360 Degree transparent
Waterproof
Easy DIY kit
Different sizes can be connected
Widespread application
Excelite dome assembled in cold countries like Canada, also we installed in desert-like Joshua tree CA, It suitable for Audi Arabian climate, and you can use it for snow mountain.
Excelite as a polycarbonate sheet supplier, devoted to supply polycarbonate sheets to worldwide in the last 20 years.
We know polycarbonate very well, we have always been interested in all kinds of products made of polycarbonate sheet.
We started to manufacturer Excelite dome since 2016. The igloos we are supplying now are the 4th generation, we used as less splices as possible to make it stronger, more watertight and more transparent. We made the doors and windows bigger for better ventilation.
Till now Excelite Dome has been exported to about 30 countries, more than 20 glamping resorts and restaurants and still counting.